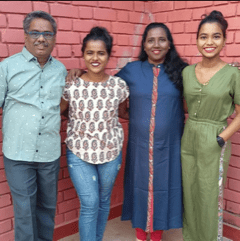 Leena and her husband Vijay are a vibrant part of the church in Mumbai. They have served in many ministries and they have two lovely daughters. They are hard workers, but despite their endeavors, they live in very poor conditions in a slum outside Mumbai.
Leena suffered a terrible fall in the shower and severely injured her back. To deal with the pain, Leena took painkillers, but they only masked the injury and now her back is much worse. During the COVID outbreak, Leena lost her job and she and her family do not have the means to pay for her healthcare. Given her worsening condition, it is possible she may need surgery. Leena and her family are seeking your financial assistance as they endure this incredibly difficult time.
Thanks to generous ETF donors,
this need has been met!