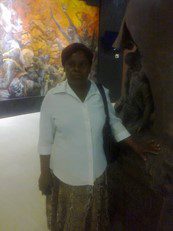 My name is Hilda Majuru. I was widowed in 1997 when my only son Tinomudaishe was 3 months old. From then I on, I never thought of going to church again because I was bitter towards the Lord. I always asked, "but why did God allow this to happen". It was not easy raising a child under the economic hardships in Zimbabwe as a single mother. Before I came to church, I used to cry almost daily especially when my child became a teen. He totally changed. He was rude to me to say the least. Thank God he was baptized in 2012 and now he loves God more than anything else. In June 2013, I also got baptized. Now we are a happy family of disciples.
Recently, my uncle gave me a 200 square meter plot. We were able to get all the brickwork finished, but there are no window frames, no ceiling, no floor, and no water inside the house. We are currently using a bucket system for cooking and bathing. My son and I are kindly asking for assistance to purchase building materials for our home to make our space a more livable place for us to reside.
Your love and generosity is greatly appreciated!
Thanks to generous ETF donors,
this need has been met!