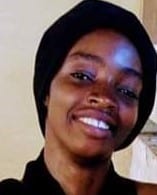 Hello! My name is Fatou and I was born to a polygamous family. My upbringing was very difficult due to my father's abusive behavior and the financial strain he felt from having six children and three wives. I began to work from an early age and had to drop out of school to help support my mother. Thankfully, my half brother Eric adopted me and introduced me to Christ. In 2016, I became a disciple of Jesus and my life began to take a turn for the better. Later that year, I was also able to complete high school and today I am a second-year psychology student.
I am incredibly grateful for my brother's support and I am thrilled to be a college student, but finances are still a major issue. Currently, I sell fruit juice to help make ends meet and pay for my tuition. My family and I face many struggles, but for the moment I am seeking assistance for our immediate needs which include tuition costs, groceries, and rent.
Thanks to the generous donations of ETF contributors,
this need has been met!