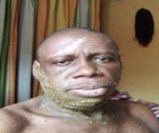 Marcus E. has been a disciple for 28 years. He is a single brother from Ikeja region of the Lagos church.
MEDICAL HISTORY
It started in March 2020, when he noticed a lump in his mouth. He went to his doctor who referred Marcus to LUTH (Lagos state teaching hospital), in August 26th, 2020. He ran some tests, after which he was told he will undergo surgery which did not happen, because the hospital went on strike that year.
In 2021 he went back, he was told to go get another referral letter, so his doctor gave him the letter, he went back, again he was asked to rerun the test all over again it took almost 3 months when the results came out he went back, the hospital went on strike again that lasted for 4 months. At this time the growth in his mouth was growing in such a way that he could not eat or breathe well.
His family used herbal, which brought the growth down, but he still requires major surgery for his condition.
Marcus desires to undergo a surgery, he sent his report to Narayana Health hospital in India, he got a reply that they will have to run their own test with 1,000 USD. The cost of surgery will be decided on the detailed evaluation. Marcus is soliciting for Support from ESPECIALLY THE FAMILY to be able to undergo this surgery so that he can have his health again. Thank you in anticipation of your consideration.