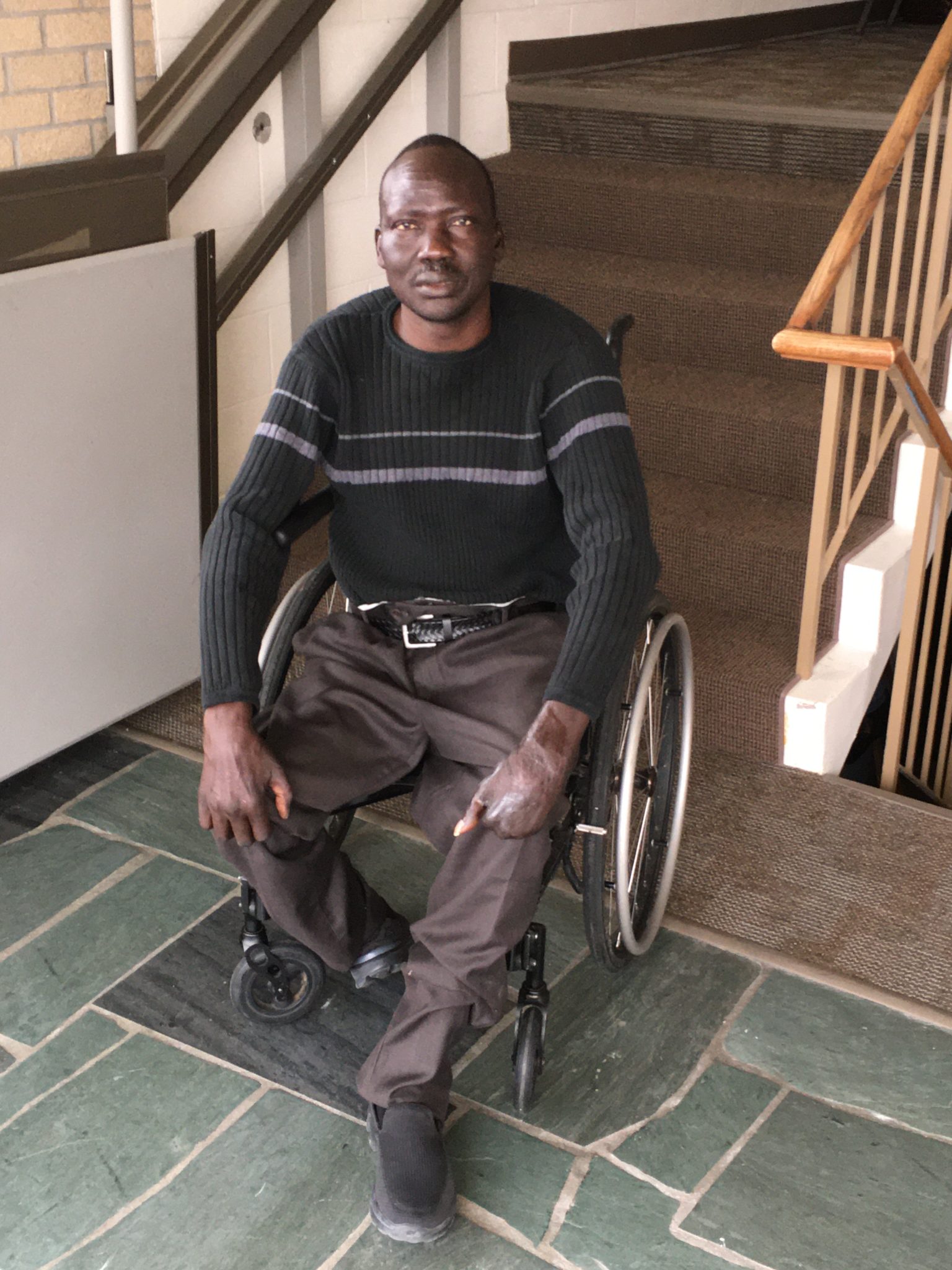 My name is Lazarus. I am 47 years old and live in Omaha, NE, USA. I was born in Bentu, South Sudan. I contracted polio at the age of 7 and have been unable to walk since then. I grew up in a time where civil war and unrest was prevalent. Due to religious persecution, at the age of 17, I had to crawl for 9 months to Ethiopia where I spent the next 15 years in refugee camps.
I migrated to the US in 1998. Since living in the US, I have made several trips back to Africa to preach and teach. I started a house church in my home in Omaha, connecting to many Sudanese refugees.
I have spent most of my life working as a missionary in the Presbyterian tradition I was brought up under. In 2017, I made a missionary trip to Sudan, where I was given a flesh-eating bacterium. Ultimately, this required sixteen months of convalescent care. The bacteria took all the fingers of my left hand and left significant scarring up my left arm.
I was held hostage for almost two years in Sudan and Ethiopia on my last missionary trip, returning to the US in very poor health in January of 2021. My wife had decided to leave me during this time and left me with a lot of debt, including over $12,000 in back rent to the Omaha Housing Authority.
We have been able to secure some outside assistance, and the church in Omaha has really stepped up to support me. I got connected to the church in Omaha in Aug of 2021, and became a disciple, as outlined by God's word, on September 2, 2021, when I was baptized into Christ.
I continue to connect with my former house church members and share with them the entirety of the good news and connect them to the church. Please pray for our planting and watering of God's word.
I know the Omaha church will participate in helping my rent needs. I am faithful that God will continue to open doors for us here.
Thanks be to God.
Request: $10,000 for outstanding debts