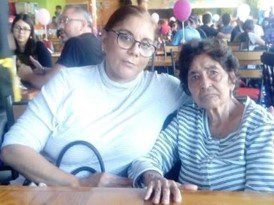 Karla and her husband Carlos have been disciples for 14 and 22 years respectively. They have been a true blessing to the church in Tijuana, and their family. After years of reaching out to her, Karla was able to baptize her mother, Inés, in 2019 at the age of 95!
Just one month ago, our faithful sister Inés, passed away peacefully. Karla had a burial lot prepared for her, but unfortunately it has gotten very rundown over the years and requires some repairs before it can be used.
While trying to cope through her grief and finding solutions for her mother's burial lot, Karla received news this week, that her sister passed away from COVID.
Karla and her family, are in urgent need of assistance to cover the costs of both her mother and sister's funeral expenses. Your assistance for this family is greatly appreciated!
Thanks to ETF donors,
this need has been met!