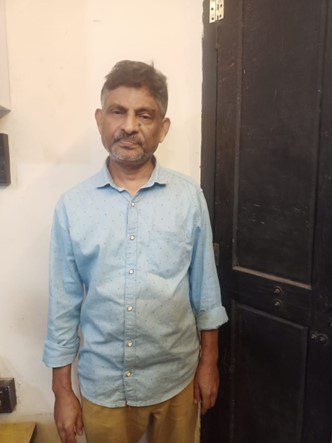 Joy, his wife Sheeba, and their sons Vipin and Rigil were one of the earliest converts in the Calicut church. Joy came from a traditional Christian religious family, while Sheeba came from a staunch Hindu family. As a result, they faced opposition and rejection from both sides of their families. Moreover, they were not financially stable, with Joy working as an assistant to a daily wage of household painting and Sheeba working as a tailor. Despite all these challenges, they became one of the supporting pillar families of the Church in Calicut. However, an unfortunate event occurred in their lives, which brought them into a predicament.
In November 2022, Joy developed a small boil in his calf muscle in his right leg. He went to a government medical college hospital where they gave him tablets for his fever and said not to worry about the boil. However, Joy, who is highly diabetic, continued to have a fever for two weeks and the boil became swollen and reddish. He returned to the hospital and was given some medicine, but a week later, the situation worsened. Finally, he was taken to a private hospital where it was discovered that the entire muscle was infected and inflamed, requiring immediate surgery. The tests, medication and surgery cost a lot of money, and Joy had to be hospitalized for two weeks. Thanks to the help of some people and the church, the procedures were able to be done.
Afterward, his eyesight started deteriorating, and he had high variations in his blood pressure and low blood count, as well as hearing problems. As of November, Joy will not be able to work, but Sheeba works night and day to tend to her husband and family. Even though she had her uterus removed two years ago and is in poor health, she will sweep and mop the house before breakfast. However, medical expenses still pose a significant burden to them. Any amount will use for Joy's medical needs.
Request $1,000