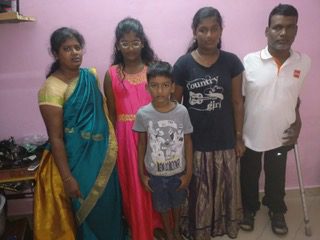 Jagdish and Shobha have been faithful disciples since 2001. They live in Bangalore, India. At the age of 2, Jagdish was infected by polio which affected his overall health and mobility.
Despiste the challenges they have faced over the years, Jagdish and Shobha are happily married and have 3 children: Natalia (13 years old), Melonia (12 years old), and Samuel (9 years old).
When Jagadish was diagnosed with Tuberculosis, he quickly slipped into critical condition and he was hospitalized for many months and his condition left him in a unfit for work.
Jagdish still has medical conditions that have not been treated due to financial restraints and his health is an ongoing concern.

Jagdish is the only bread earner of the family. At present, his family is surviving thanks to the generosity provided by the brothers and sisters in the Bangalore Church. However, resources are limited and they are seeking assistance to help them get through this difficult time and address medical necessities so that Jagdish is able to regain his ability to work. Your kindness is greatly appreciated!
Request: $900