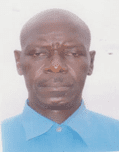 Edgard has been a disciple of Christ since 2002. He has two children, and tragically he has been left to raise them on his own since he became a widower.
Five years ago, Edgard lost his job and began selling cookies and candy to provide for his family. Following the COVID19 pandemic, the traffic between Kinshasa and other cities which supply most essential goods has slowed down tremendously. This has resulted in a scarcity of goods in the market, causing the price to rise, making it impossible for him to afford the supplies he needs for his business. Edgard is unable to pay rent and groceries for his children have become very difficult to secure so he humbly appeals to you, his brothers and sisters for financial assistance. Your gift to this family will be greatly appreciated!
Thanks to generous ETF donors,
this need has been met!