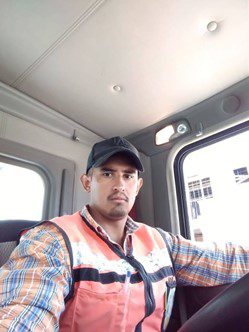 Let me give you a brief overview of my life: I am a 28-year-old man who met God through my wife during a visit to her family, where a disciple started to share the gospel with me. I came from a difficult background with divorced parents, and I began working at the age of 15 to support my foster family, which consists of my three brothers, my mother, and me. I had to quit my studies and focused on becoming a truck driver.
I am currently a concrete pump operator, and with God's help and through sacrifice, albeit the roof is yet unfinished. Because there is no tile that will prevent the rainwater to pass through, the room is not covered, and there is no solid floor. that every day in our prayers, we ask God to help us because the rains have already started and we are struggling greatly. And two months ago, the government closed the mines, including the one where I work, which was our only source of income. In addition, my wife is still in school, and I am liable for all educational fees.
Despite everything, I am grateful because I know that God is with me and that he hears my prayers because he has now provided an answer through you. I sincerely appreciate your kindness and want to wish you well. God's blessings upon you.
Request amount $1,000