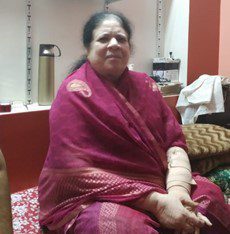 My name is Beena and my family and I started attending church in 1996 and we have been a disciple for the last 26 years, Dad, Mom and 3 sister and a brother, we lived a very happy life in Christ.
In 2017, my father was hospitalized due to stroke and brain hemorrhage, he was bed-ridden for 2 years and then in 2019 he passed away. We have still not cleared the loans that we had taken for dad's treatment meanwhile mom fell sick.
My mother, Vineela, is in MICU in St John's Hospital, Bangalore. She was brought to the emergency with a complaint of low oxygen but later was diagnosed with pneumonia while she was being treated for lungs, she had a heart attack and her Oxygen BP dropped drastically, immediately she was put on ventilation.
As per Doctors advice she might have to be in the MICU for another two weeks and then ITU observation for 2 weeks depending on her recovery, the bills are going up and up.
We have already paid large amount to the hospitals through loans from others.
In this situation whatever we get will be a great help for us, only my sister has a stable job and everyone else holds temporary jobs, her earnings will not be enough to meet all the needs and clear loans.
We will be grateful whatever help we are able to receive. Thank you!
Thanks to generous ETF donors, this need has been met!