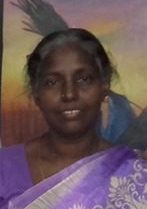 Aruna grew up in a non-Christian household, but has been an amazingly faithful disciple for more than 20 years.
In the past few years she has suffered the loss of a daughter, and endured seeing her husband go through various near-death health challenges.
The financial challenges she now endures is heavy. The medical bills for her husband and the funeral expenses for her daughter have brought upon a tremendous amount of added worry.
She and her family are in need of assistance to pay down their debt as they persevere through the hardships of these past few years.
Thank you!
Request $1,000