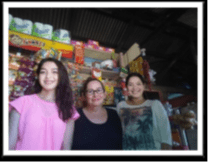 Alba is a single sister who recently graduated from college and lives with her younger sister and mother. Alba has been a faithful disciple for more than 7 years despite the many hardships that she and her family have faced. Alba lovingly helps to care for her elderly mother who suffers from various ailments, including diabetes and hypertension. Our sister has endured many financial constraints since her father has been absent for some years. Currently, the only source of income that they live on is the earnings they generate by reselling a few small items.
Their condition makes it very difficult for them to afford food, medicine, and rent. Our sister needs our help and would be greatly appreciative for any support towards their request of $400 which will help them to pay for their food, medical, and housing expenses. May God bless your generosity!
Thanks to ETF generous donors,
this need has been met!